STATEMENT FROM KNDI C.E.O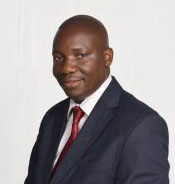 Dr. David Okeyo
C.E.O, KNDI
• The Kenya Nutritionists and Dieteticians Institute was established by an Act of Parliament No.18 of 2007 (CAP 253B), to provide for training, registration and licensing of nutritionists and dieticians, to provide for the regulation of the standards, and practice of the profession to ensure their effective participation in matters relating to nutrition and dietetics and for related purposes.
• The Act Provided KNDI with a Governance Structure of a Council, Office of the Chief Executive Officer and Technical Committees Namely:
o Accreditation,
o Registration and
o Disciplinary.
• The Act also specified functions of the Council.
(a) Determine and set a framework for the professional practice of nutritionists and dieticians;
(b) Set and enforce standards of professional practice and ethics on nutrition and dietetics;
(c) Enforce a programme of quality assurance for the nutrition and dietetic profession;
(d) Approve institutions as institutions for the purpose of training persons seeking registration under this Act;
(e) Research into and provide public education on nutrition and dietetics;
(f) Maintain the competence of members by updating their knowledge through publications and the conduct of continuing professional education;
(g) Provide for training of nutritionists and dieticians;
(h) Design programmes and methods for sensitization on suitable dietary and nutritional habits; and
(i) Perform such other functions as may be necessary for the proper administration of this Act.
SUMMARY OF MAJOR ACHIEVEMENTS (2010-TO DATE)
The Council realizing that its core mandate was to train Professionals in Nutrition and Dietetics, whom Kenya had not seriously embraced in its human resource developments, moved quickly to:
a) Set a Register of all persons trained in Nutrition and or Dietetics.
b) Approved 57 institutions of higher learning offering courses in Nutrition and Dietetics after inspection of their facilities and manpower
c) Developed the minimum core curricula to be used in the training of Nutritionists and Dieticians at Certificate Diploma and Degree levels.
d) Develop a system of indexing of all students enrolled for courses in nutrition and dietetics
e) Prepare guidelines for Internship for newly qualified persons to facilitate their registration in line with Act.
f) Develop a programme for Continuing Professional Development (CPD) to ensure members keep themselves up to date with new developments in the field. Such CPD is tied to renewal of licenses.
g) Develop institutional performance appraisal guidelines.
h) Develop a draft communication Policy document.
i) Develop Resource Mobilization policy.
j) Develop Reserve Fund Policy.
k) Develop Examination Policy.
l) Develop Standard Operating Procedures for Disciplinary actions.
m) Develop FA & HR Committee (Audit) for internal Controls.
n) Consistently hold their statutory meetings on regular basis since the inception of the Institute.