Kenya Nutritionists and Dieticians Institute (KNDI), Africa Center for Excellence in Population Health and Policy (ACEPHAP) at Bayero University, KANO state Nigeria and Maseno University held an evening meeting at Maseno University, Kisumu Hotel to discuss matters of collaboration on nutrition specific and nutrition sensitive areas. KNDI Chief Executive Officer (Dr. David Okeyo), ACEPHAP Deputy Director in charge of linkages and collaboration (Prof. Salisu Abubakar Mawaida) and Maseno University team led by two DVCs Prof. Cathrine Muhoma (DVC Administration, Finance and Development) and Prof. Erick Nyambedha (Ag. DVC, Partnership Research and Innovation) spearheaded the meeting. Also present was Ag. Dean school of Public Health (Dr. Lilian Ogonda), HOD Nutrition and Health (Dr. Christine Onyango), Dean School of Nursing (Ms. Linda Mugambi).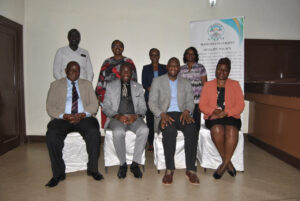 During the discussion, Dr. Okeyo applauded Maseno University as one of the training institutions that have complied with standards of nutrition and dietetics training in the Country. He further expressed that Maseno, one of the Universities identified by KNDI which is the coordinating partner in Kenya, as a key potential partners with ACEPHAP on matters of research, outreaches, continuing professional development courses, student/staff exchange internship programmes and matters of postgraduate scholarships for both PhD and Masters. Prof. Abubakar, emphasized on collaboration and expressed excitement of how responsive Maseno University team was despite short notice for the meeting.
Prof. Nyambedha reiterated that matters of research, partnerships and collaborations is core in the business processes of the University and alluded to huge multidisciplinary aspect of nutrition research with social lens. He emphasized huge potential of research opportunities in Busia County citing high level of malnutrition.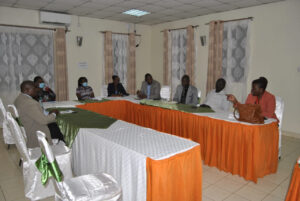 Prof. Muhoma highlighted the potential on key matters related to nutrition communication and behavior change model. She further identified the application of theory of change model to bring in more multidisciplinary aspects of research in nutrition and nursing. Prof. Salisu Abubakar also informed the meeting that despite his core interest on nutrition matters, ACEPHAP also has other areas of collaboration including nursing programmes, maternal and child areas, global health among others. He further indicated that other centers are working on dryland agriculture and he would be willing to report this when he is back in Nigeria for other potential collaborators. The meeting ended with a Joint Dinner at Kisumu Hotel. Other universities identified include Pwani University, Karatina University, Mt. Kenya University, Kabarak University, TUK and MMUST.