KNDI, ACEPHAP and Pwani University held a meeting on 5th April,2022 at Pwani University grounds to discuss matters of collaboration in research, community outreaches/ students staff exchange, Masters and PhD scholarships for Nutrition, Dietetics and related health programs. This is part of the mission that has had Three other universities engage with KNDI and ACEPHAP. As lead partners in this grand programme, KNDI and ACEPHAP are determined to expand collaboration among Kenyan universities recognized to train in Nutrition and Dietetics and other African universities to find long-lasting solution for African health workforce strengthening with a hope to influence population health and matters of policy.
The KNDI Chief Executive Officer (Dr. David Omondi Okeyo) and ACEPHAP Deputy Director (Prof. Salisu Abubakar Mawaida) who has been hosted at KNDI offices in Mlolongo had a first management briefing at the Pwani University Vice chancellors, office. The two were received by Acting Vice chancellor Prof. James H.P. Kahindi on behalf of Prof M.S. Rajab (Vice-chancellor).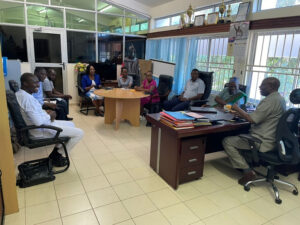 Prof. Kahindi, when giving welcome remarks congratulated KNDI team and re-affirmed their relationship with KNDI. He highlighted that Pwani University is hosting the current Council Chairperson of KNDI (Dr. Evayline M. Nkirigacha) who is also the head of Nutrition and Dietetics department at Pwani University. He further reported that Pwani University is currently active on matters of research and community outreaches and is currently collaborating with many Institutions such as KEMRI Kilifi, Welcome Trust Programmes.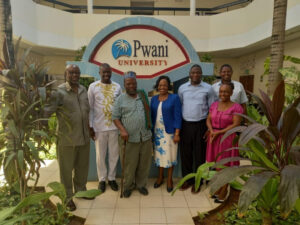 "The University is currently hosting a Centre of Excellence in informatics and Analytics which is currently a collaborative initiative between Pwani University, Kilifi County Government and KEMRI-WTRT," said Prof Kahindi.
Dr. David Okeyo and Prof Salisu Abubakar on a joint submission repeated that ACEPHAP and KNDI's ATRI-PLC as key partners is planning to work with 7 other Universities in Kenya to build a long-lasting collaboration for huge grants. KNDI and ACEPHAP lead team later met with the technical team that included experts from Nutrition, Nursing, Public Health and Anatomy departments to explore arears of collaborations. As part of learning a Nutritionists (Dr. Patricia Mbogo) made a presentation on data mining platform project that would create a long-lasting hub for critical indicator data on nutrition and specific and sensitive issues of the Four Counties of Coastal region in Kenya. Captain(rtd) Dr. I. A.M Y'Dhidha-a-Mjidho (Dean school of health and Human sciences) made a comprehensive presentation on Centre of Excellence in Informatics and Analytics (also labeled as Pwani Informatics-Hub) with a focus of integrated data mining for health indicators.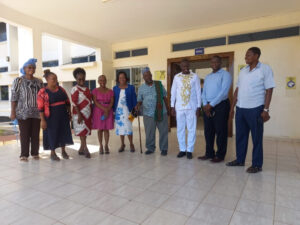 Dr. Okeyo and Prof. Salisu informed the Centre's focus is very relevant for collaboration and potential to take lead on Nutrition and Dietetics data harvesting in the African region. However, the team advised that this new hub be scaled up to other regions and if possible be replicated in other African Countries to give it regional focus.
It is envisaged that after review of Memorandum of Agreement (MoA) the Pwani University will be part of the collaborating institutions. The University also re-affirmed their position to physically host a KNDI, ATRI-PLC branch on Pwani University grounds as soon as the KNDI Council demonstrate readiness. This collaboration will be part of great achievements of KNDI Council on matters of research training and Community service.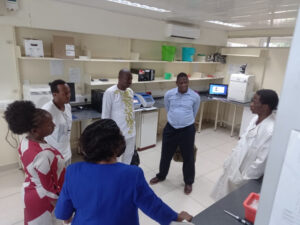 During the technical deliberation the ACEPHAP Centre Director (Prof. Hadija Shem Galadana) and Council member/Chairperson, Accreditation (Prof. Gordon Nguka) joined the meeting to re-affirm on the commitment towards this noble initiative that is now taking a regional focus.
Other Pwani University technical staff in the meeting included. Dr. Patience, Dr. Osman, Dr. Mwanaidi, Mrs. Hilda, Ms. Mwaswere, Ms. Mwafaida.
The meeting was officially adjourned by Dr. Evayline Nkirigacha in her capacity as the Chair of KNDI Council on request by Dr. David Okeyo (CEO).