Kenya Nutritionists and Dieticians Institute (KNDI), African Centre of Excellence in Population Health and Policy (ACEPHAP) at Bayero University, Kano state, Nigeria and Technical University of Kenya (TUK) held a discussion on 7th April 2022 as part of continued mission to extend collaborations on research, student/staff exchange, community outreaches and continuing professional development by short courses. KNDI represented by Dr David Okeyo (CEO) and ACEPHAP represented by Prof Salisu Mawaida Abubakar (Director Linkages and Partnership) were first received by Prof. Francis Aduol (Vice Chancellor) in his boardroom as part of the university's commitment to the collaboration. Prof. Aduol welcomed the two partner representatives and assured them that the DVC Academic Affairs Prof. Paul Shihundu (who was also present) would lead the discussions together with a team of faculty from relevant schools and departments. Prof Aduol thanked KNDI for always thinking about TUK on core University matters like the one tabled.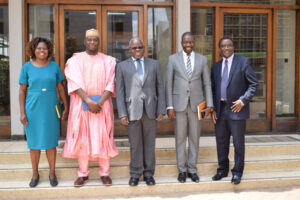 Dr David Okeyo and Prof Salisu Abubakar jointly submitted that ACEPHAP and KNDI through ATRI-PLC programmes is set to work with 7 universities in Kenya to push the agenda of population health through research, community outreaches, short courses, scholarships for masters and PhDs through collaborations with departments of nutrition and other related departments such as nursing and public health.
On matters of scholarships the team affirmed that ACEPHAP is currently admitting students for master's programmes with a niche in policy. Such programmes include MSc Public Health Nutrition and Policy, MSc Nursing and Policy, MSc Global Health and Policy, MSc Maternal Health and Policy as well as MSc in Mental Health and Policy. Prof Salisu further explained that the entry point would be KNDI through its ATRI-PLC programmes but the benefits will extend to other related disciplines in the field of population health.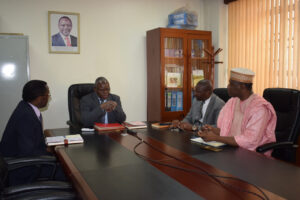 The team further proceeded to meet with technical faculty members of TUK where Prof. Shiundu further made a presentation on TUK programmes and particularly health related programmes. He submitted that all TUK programmes have a technology niche and that TUK is one of the two technical universities in Kenya at present.
The discussions summarized matters on nutrition and dietetics and how other disciplines such as nursing, public health and biomedical sciences would support multidisciplinary aspects of nutrition and dietetics on research by short courses of policy relevance. Prof Jactone Odote (a Physicist) representing director research hinted inclusion of physics in nutrition research through innovations on machines and equipment for data collection and storage. Other faculty members present in the meeting included Dr Francis Oguya (representing director school of Health), Dr Sitoki (representing dean of faculty), Dr Naomi Waiganjo (Academic team leader, Biomedical Sciences) and key members of the department Dr Judith Waswa (HoD), Dr Alice Ndong', Dr Mary Mugambi and Mr Hesbon Simba.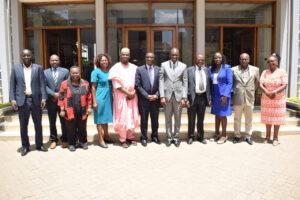 The meeting ended with a task that required the TUK team to review the Memorandum of Agreement (MoA).